Delighted to feature in Faversham Life………..
Faversham Life
Flax, Fibre and Plant Dyes is the culmination of The Kent Cloth Project and is showing at Rochester Art Gallery until 4 January 2020. It has grown out of Francesca Baur's passion for textiles and the Kentish landscape, and her desire to reconnect the two. She writes: 'This project advocates a slower approach to creating natural local textiles with a story that embraces local heritage and landscape.'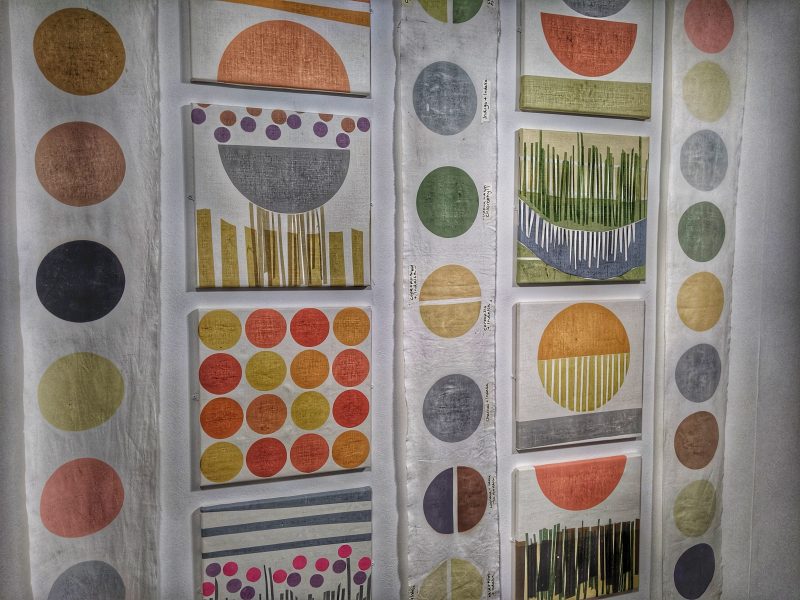 Francesca describes the project as 'a botanical journey'. Her travelling companions on this journey include those who planted small packets of flax seeds which Francesca brought back from Belgium, and harvested the flax; those who attended workshops, trudging through woodland with Fergus Drennan the forager to hunt for natural dyestuffs and fungus from which to make paper; and Kimi Gill the photographer whose magical film about flax production can be seen at the exhibition, and who dragged Francesca out of her bed at four in the morning to see the fleeting flowering of the flax in Belgium.
There were four partners in the project who each offered different aspects of the Kent landscape and opportunities to hold workshops exploring such processes as dyeing with foraged plants, spinning with flax, screenprinting with natural dyes, and seasonal walks to appreciate natural colour. Each inspired Francesca to make a wall hanging – all are exhibited. Francesca made a natural dye plant garden at the organically-managed garden of Pines Calyx, close to the white cliffs of St Margarets Bay. Here she grew traditional dye plants like woad, madder, coreopsis and marigold. The marshes of Elmley Nature Reserve showed a different aspect of the Kent coast. Doddington Place Gardens, set on the edge of North Downs woodland, was chosen for the abundance of planting in its historically important gardens, and Brogdale for its fruit collection.
Francesca explored the possibilities of growing flax in Kent, visiting Belgian linen producers to learn the process. She grew flax at Pines Calyx and Rochester Art Gallery and distributed 300 packets of flax seeds to volunteers, and learnt the techniques of 'pulling, retting, scutching, hackling and spinning'. The exhibition explains the process.
The results of these partnerships are on display at the exhibition: linen streamers in myriad colours from the natural dye garden at Pines Calyx, hanks and curls of flax, some grown in Kent from seed and spun in workshops, paper made from fungus foraged in the woods at Doddington. There are patchwork quilts created by Francesca from the fabric dyed with foraged stuffs and mordanted to create different colours.
Francesca has textiles and the Kent countryside in her blood. He grandfather established a lingerie business in Regent Street after he left the Munich lace house Spitzbergen Klauber for England in 1930, and her parents set up Ripple Organics, one of the first organic farms and box schemes. Francesca has combined the impulses of both. She told Faversham Life, when we interviewed her about her textile design business Fable and Base on 12 November 2016: 'I embrace our planet by only working with natural materials.'
The success of Fable and Base was at the heart of Francesca's creation of The Kent Cloth Project. 'Demand took over,' she says. The idea of The Kent Cloth Project was born and she applied to the Arts Council 'to give me time to develop my own practice. I wanted to depict the Kent landscape and I wanted a community-based side to the project.'
The exhibition is the end of the Arts Council funded project but far from the end of it so far as Francesca and Fable and Base are concerned. She says: 'This project has changed the way I want to work as an artist.' She will continue the relationship with the Belgian company for linen and is sourcing antique linens in France for printing. She is planning future workshops – check Fable and Base's website for details of up and coming events – and to maintain the natural dye garden at Pines Calyx.
Flax, Fibre and Plant Dyes is showing at Rochester Art Gallery until 4 January 2020
Text: Posy Gentles. Photos: Lucy Adams, Kimi Gill, Posy Gentles and others
https://favershamlife.org/the-kent-cloth-project/
---